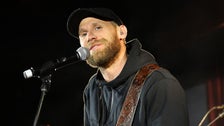 Chase Rice was lambasted on Twitter this weekend after making a "disgusting" joke about possibly having COVID-19.
The 35-year-old country singer tweeted on Saturday ahead of the release of his new song with Florida Georgia Line, "Drinkin' Beer. Talkin' God. Amen," and claimed he'd lost his "taste and smell," symptoms associated with contracting the virus.
Just lost my taste and smell. Weird. Also, dropping a single at midnight.

— Chase Rice. (@ChaseRiceMusic) November 29, 2020
He followed up the tweet by saying that he doesn't have COVID-19, but is "dropping a single."
On a real note. Don't have covid. But I'm dropping a single tonight. With 2 guys that I learned a lot from. Respect the hell out of @FLAGALine. And 10 years after we started doing music together and lived together, we're at it again. Drinkin beer. Talkin God. Amen🤙🏼

— Chase Rice. (@ChaseRiceMusic) November 29, 2020
People on Twitter took Rice to task on his tweet and for joking about a pandemic that has killed hundreds of thousands of people in the U.S.
Continuing to have shows during the middle of pandemic is one thing, but making jokes about having CoVid to promote new music is a new low. You better believe I'm not gonna give this song a listen https://t.co/p2oqYmXMHQ

— Karyn (@_Karyn_) November 30, 2020
The fact that I just got off a weekend working in my hospital full of patients with covid and then there's this dude thinking it is a joke. Never really listened to his music before but def won't be moving forward. ✌🏼✌🏼 https://t.co/jZgVD2GVqG

— melissa (@melisssarowland) November 30, 2020
Yeah, using a deadly virus as an attention grabber for your new single is definitely the move. The move to lose even more supporters because of your lack of care for anyone other than yourself: something a lot of Americans have an issue with. Grow up dude. https://t.co/KTUL3JkVDi

— Tori Love (@torilove810) November 30, 2020
HuffPost has reached out to Rice for comment on his tweets.
This isn't the first time Rice has come under fire for something he's said or done in connection with the ongoing pandemic. Earlier this year, he was roasted on social media after posting video of a crowd at a concert at Brushy Mountain State Penitentiary in Tennessee.
Rice shared the video on his Instagram Story with the caption: "We back." It appeared all over social media until it was quietly removed after widespread criticism.
In addition to Twitter users calling the event everything from "dumb" to "mass murder," fellow country star Kelsea Ballerini also went after Rice for holding the concert, calling him "selfish."