When that hotline bling, that can only mean one thing: It's time to look back on President Donald Trump's infamous episode of "Saturday Night Live."
On Friday, Colin Jost, co-host of the show's "Weekend Update" segment, went on MSNBC to talk with Andrea Mitchell about his new book, "A Very Punchable Face."
During the interview, the "SNL" writer also reflected on Trump's 2015 appearance, in which the then-presidential candidate did sketches such as parodying Drake's "Hotline Bling" and looking at what America would be like if he were to win the 2016 election.
In his book, Jost reportedly calls Trump's appearance a "Confederate statue" of entertainment, also writing that the episode "has not aged well, politically or comedically."
He explained the excerpt to Mitchell, saying, "I write about it in the book because I wanted people to have a sense of what that was like behind the scenes."
MSNBC also played clips from the episode, which the "SNL" writer called "surreal."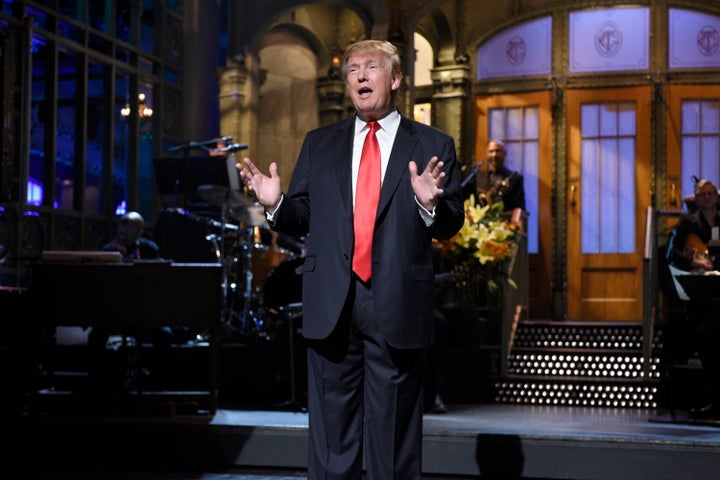 "I think it also speaks to what he's done and how he can feel charming or even manipulative sometimes with people, and you see it — think about all the people in his administration who he's gone through who have learned that lesson and are now also writing books about it," Jost said. "I wanted people to be able to understand what was going on while he hosted and what that week was like because it was a pretty weird week for us on a lot of levels."
Trump was also hanging around set an unusually high amount, according to Jost, especially for someone running for president.
"I think most people assumed in America too that it would be burned out at that point, and maybe even that campaign would've been over, but instead he was fully in the middle of a campaign and somehow was also there hosting our show every day," he said. "That's a pretty strange thing too."
Jost joins a chorus of "SNL" performers decrying Trump's appearance. Pete Davidson was critical of Trump on Opie Radio in 2015, saying the now-president didn't know how to read. Former cast member Taran Killam has also spoken about the episode numerous times, calling it "shameful" on NPR.
Calling all HuffPost superfans!
Sign up for membership to become a founding member and help shape HuffPost's next chapter