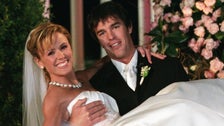 Original "Bachelorette" Trista Sutter revealed that she found some binders at her wedding that clued her in to how producers run the hit ABC franchise behind the scenes.
In an interview shared this week on the "LadyGang" podcast, Sutter talked candidly about her on-air wedding with her now-husband Ryan Sutter. She explained how the producers essentially forced her into making her season's runner-up, Charlie Maher, act as the host of her wedding in a turn that she admitted was "a little awkward."
"They came to us and they said to us, 'Do you want us to be in your face all day long — all day?' And we were like, 'No, of course not,'" said Sutter. "They were like, 'If you don't want us around all day long, then you're going to have to have Charlie be the commentator or the correspondent.'"
Then she unveiled a juicy producer discovery: binders full of storylines. Trista said that the binders contained her guests' "characters" and "the storylines for every person."
"At our wedding, maybe actually it was at our bachelor/bachelorette party, one of the producers left their binder out — like they forgot their binder somewhere and one of the people who was at the bachelor/bachelorette party picked it up and gave it to us. And it had, like, their characters, like the storylines for every person," she shared. "They had all of our friends who were invited to the bachelor/bachelorette parties. They had, you know, all of their bios and, you know, probably some stuff that they interviewed about. And then, I think they had titles, like maybe like the villain or the sweetheart."
Trista ultimately defended the binders, chalking up the move to being typical TV behavior. She said "the editors need to know who these people are and be able to pull, you know, certain clips from their ITMs or, you know, whatever."
"So, it's a TV show. It's always going to be a TV show. It's getting more of a TV show, I feel, like compared to how it was, you know, back in the day," she added.
While Trista also said that her wedding was "super fun," she's far from the first person within the franchise or watching from the outside to remark on the interference of producers on the "reality" of the series.
In the wake of the most recent drama on "The Bachelorette" featuring Clare Crawley, Crawley's friend and former "Bachelorette" contestant Michelle Money told Us Weekly's podcast "Here For The Right Reasons" that "production is totally doing [Clare] dirty." 
"The way that they're editing this storyline is so out of context that it's just so frustrating as her friend to sit by [and watch]. It's like [production] has no moral compass," she explained.
Calling all HuffPost superfans!
Sign up for membership to become a founding member and help shape HuffPost's next chapter