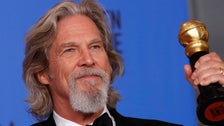 In a way only he could do it, Oscar-winning actor Jeff Bridges in his Dude persona announced Monday that he is ill with lymphoma.
"As the Dude would say … New S**T has come to light," the 70-year-old actor tweeted, referring to his starring role as a sweet stoner in the Coen brothers' California cult classic "The Big Lebowski."
"I have been diagnosed with Lymphoma," he revealed. "Although it is a serious disease, I feel fortunate that I have a great team of doctors and the prognosis is good." 
Bridges thanked people for their "prayers and wishes" and said he was "grateful for his friends and family." 
He added: "While I have you, please remember to go vote. Because we are all in this together. Vote.org."
He signed the tweet: "Love Jeff."
He nabbed an Oscar in 2010 for his performance as a country singer battling alcoholism in "Crazy Heart."
Bridges was bombarded on Twitter with quotes from "The Big Lebowski," tips and inspirational messages from lymphoma survivors. Long-time New York Times film critic Janet Maslin told Bridges he "made the world a better place … thanks for being the beautiful guy you are and lighting up our screens since you were a baby."
Calling all HuffPost superfans!
Sign up for membership to become a founding member and help shape HuffPost's next chapter