In the ever-changing hierarchy of Hollywood white guys named Chris, one day you're on top and the next day you're Chris Pratt. 
The "Guardians of the Galaxy" actor bottomed out in a recent internet ranking that placed him in competition with Chris Hemsworth, Chris Pine and Chris Evans. 
It all started on Saturday when filmmaker Amy Berg posted a viral tweet that read "One has to go," alongside photos of the various Chrises in question, prompting many online to weigh in on which actors they'd keep.
The overwhelming consensus was that Pratt was the odd one out, which prompted Berg to then swap out his photo with actor Chris O'Dowd's in a subsequent tweet with the message: "I feel like this is harder."
Many people cited Pratt's rumored political affiliation ― he sparked a backlash earlier this month for mocking the importance of voting in the upcoming presidential election ― and the claims that his church isn't LGBTQ friendly, which he has since denied, as reasons for their ranking. 
The actor's wife, Katherine Schwarzenegger, has since come to his defense, as Pratt has stayed silent regarding the online conversation. 
The children's book author responded to an E! News Instagram post about the Hollywood Chris ranking, blasting the responses as "meanness and bullying." 
"Is this really what we need? There's so much going on in the world and people are struggling in so many ways," she wrote in a comment on Monday. "Being mean is so yesterday. There's enough room to love all these guys. Love is what we all need not meanness and bullying. Let's try that."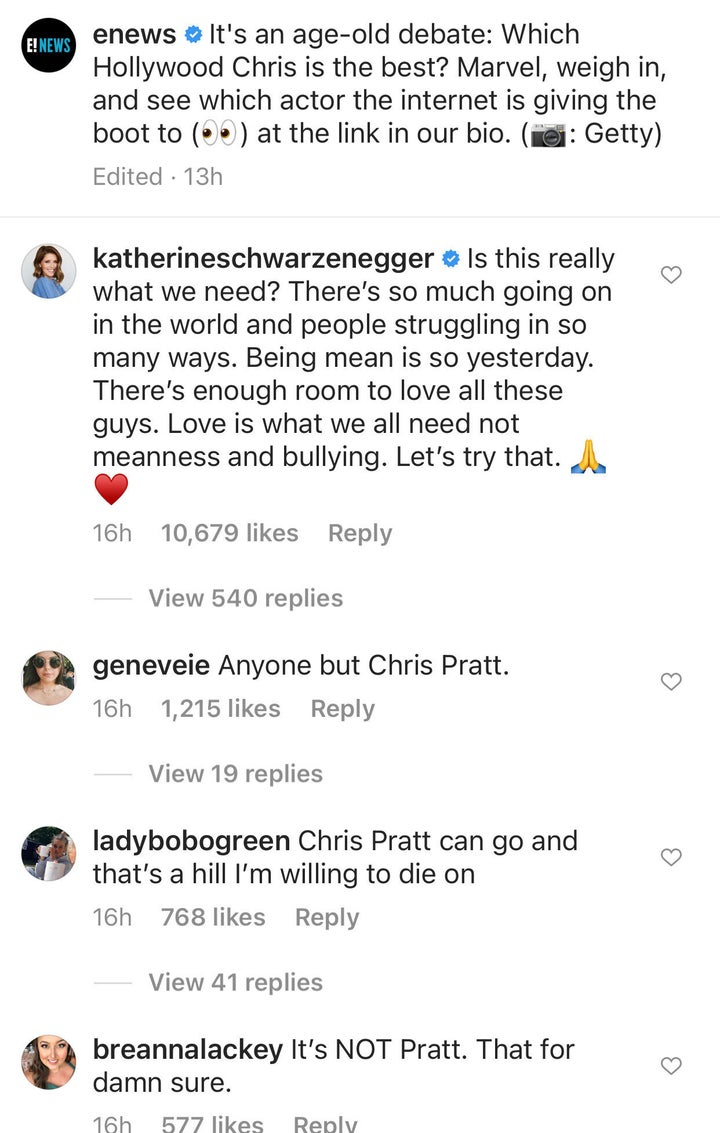 Pratt and Schwarzenegger, who wed last year in an intimate ceremony and now have a baby daughter, were seemingly at odds just last week when it came to politics.
After the Marvel star poked fun at celebrities for voicing their opinions about the upcoming election, Schwarzenegger made her political allegiances abundantly clear.
The oldest daughter of Arnold Schwarzenegger and Maria Shriver unleashed her anger over President Donald Trump's recent tweet downplaying the seriousness of the COVID-19 pandemic and endorsed Democratic presidential nominee Joe Biden.
"I'm actually at a point now where if I think that I am interacting with anybody who supports a man who tweets that when there are people who have lost loved ones and who are really sick and people who are still dying because of COVID, then I just don't really know how I can understand how you can support an individual like that," she wrote. "So, get thinking people."
Pratt, meanwhile, has continued to stay out of the political fray, having previously said that he doesn't feel represented by Democrats or Republicans. 
Calling all HuffPost superfans!
Sign up for membership to become a founding member and help shape HuffPost's next chapter